We create virtual reality experiences
for real world results.
Today, just about any industry can benefit from virtual reality. These times require us to use the latest technology to rebuild the broken systems. We create VR, MR, and AR experiences for training and educational programs, virtual storytelling, mixed reality exhibits and showrooms and more.
Ascent XR make's it easy to adopt the latest technology. With virtual reality, innovative ideas can be explored in unlimited ways and our team will show you how.
Virtual Reality for Training
Personal experience is a powerful teacher. That's why virtual reality is so effective. The tech gives people the ability to develop real life skills in a totally customized setting. You can practice delicate work on an operating table, learn about a new piece of manufacturing equipment, or onboarding a new hire.
Effective training can improve performance on just about any level. Virtual reality just takes that a step further. The immersive and realistic experiences give teams the opportunity to train like never before.
Virtual Reality for Education
Giving students the chance to actively participate with their subject matter puts fun and wonder back into learning. Virtual reality is unique because it encourages immersive exploration, which can make a huge difference for long-term retention. Instead of feeling bored, sitting behind a desk, students become emotional involved in the experiences. Virtual Reality has been shown to increase the sense of empathy.
The experience could have your students moving and playing with objects in a totally unique environment. They might be tinkering with a car engine, communicating with another culture, or experimenting in a virtual chemistry lab. All of these interactions can happen with a headset and a couple remote controls.
Being able to bring your educational material to life has a lasting impression. You can tour the world without leaving the classroom, build practical or whimsical lesson plans, or inspire real change. It's just a matter of finding the right direction for your organization and the people you want to reach
If the possibilities seem overwhelming, we'll help guide you along the way. Ascent XR is excited to work with all types of clients. You don't even have to be familiar with virtual reality to get started. Together, we can brainstorm how to create the solutions that will work best for your goals and audience.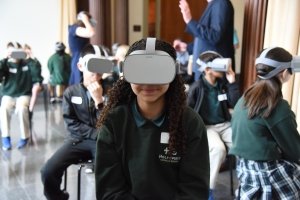 Immersive Exhibit Experiences
From Museum Exhibits to the corporate showrooms, we can engage users into experiences in a truly powerful and personal ways. If your story needs to make a memorable connection. We can help bring it home with the latest technology.
And with the new challenges we face with social distancing, this technology works perfectly with collaborations from next door or around the world.
Anyone who has gone through Birkenau with Eva Kor had an experience they can never forget. Alas, Eva is no longer. Yet thanks for the blessing of virtual reality, that experience is available to us. We can hear her voice and be with her virtually in the places that were so formative. It is an unforgettable experience now available for eternity.
The VR tour of Eva Kor's experiences brought the story to the students in a way we could never have imagined possible. By hearing her voice and traveling through Auschwitz with Ms. Kor, students were able to visualize what they had been reading about and could feel the impact of being on the selection platform and in the crowded barracks. After the VR tour, students reported understanding the personal story of Ms. Kor in ways they could not have by just reading a textbook.
What I liked the most about the Virtual Reality is that you actually felt like you were there and could see everything.
We saw the Auschwitz VR today. It was kind of overwhelming because you're not just reading a book or watching something. You're just surrounded by the camp. It's a great way to tell Eva's story and just to learn about the camp in general.
You know your organization better than anyone. We just help you maximize your process. It doesn't matter whether you want to update your corporate training series, explore new educational programs, or develop something entirely unique—our team has the expertise you need to get the most out of virtual reality.
It all starts with a consultation and demo. If you haven't already experienced VR for yourself, this meeting can be a lot of fun. Then we can start discussing what problems you're trying to solve. What are you hoping to teach? What you want to sell? Our collaboration can help you improve your systems, engage your audience, and create a long-term impact.
Strategy
What's the goal of your project, who's the audience, and what are the main value propositions you want to convey?
Getting Started
We will demo the technology (AR or VR or a mixture of both) and once we understand the problems you need to solve,  we will recommend the technology that is best served to tackle it.
Curriculum Design
Our content specialists ideate, design, and layout custom curriculum based on the strategy.
Customizing your content for VR/AR
We know how to take your content and turn it into an immersive experience. We help with content creation based on your end goal.
Content Production
Our content creators are hybrids of filmmakers, instructional designers, and 3D and graphic artists.
Making your content come to life
We orchestrate the artistic and educational aspects of your AR/VR experience, driving the entire asset production and delivery to the chosen software platform.
Usability and Testing
VR/AR is as much about usability as it is about emotions. We make sure it is as usable as it is impactful.
Ensuring a high quality experience
We put our creations through rigorous testing for both  usability of the content as well as the hardware setup to ensure an amazing user experience.
Deployment
We select and configure all required software and hardware and provide complete on-site physical setup.
Rollout and adoption
We integrate the system into your space based upon the eng goal of the VR/AR solution.
Continued Support
We ensure troubleshooting, issue resolution, and usage guidance for software and hardware.
Keeping your investment up and running
Once we have rolled out your new experience, we won't leave you high and dry. We continue to ensure the VR/AR experience meets your needs.